Functionality
Roller shutters in SKT OPOTERM system can be used both in newly created buildings, as well as during existing buildings modernization of window frames replacement. Top-mounted roller shutter system is characterized by direct mounting of roller shutter box on window frame, by means of appropriate adaptive profile. These profiles work with majority of window or door frame profiles, for wooden, aluminum and PVC joinery available on market. It's very universal and versatile product, enabling installation without development, with partial or complete development, because front of box is also base for any finishing material (e.g. polystyrene, plaster, clinker, etc.), thanks to which it remains unnoticeable element of facade.
Construction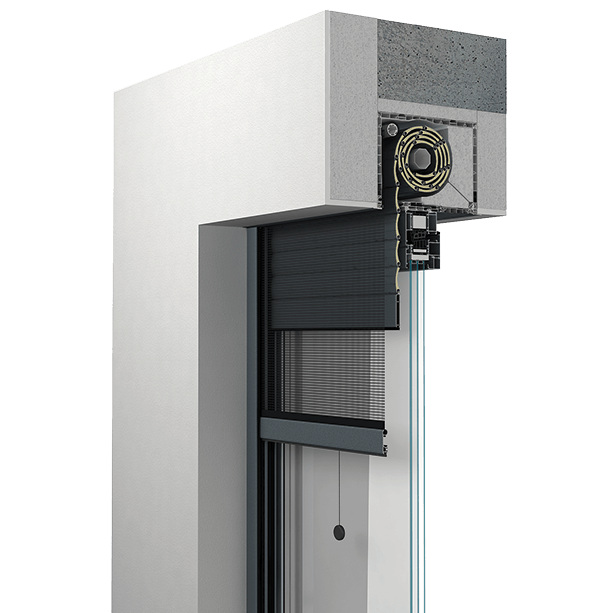 Boxes are made of very good quality PVC elements and their interior has been additionally insulated, what increasing thermal insulation. Well-thought-out structure of system enables execution of single roller blind, as well as set of roller blinds in one box. A special SKT Opoterm advantage is possibility to choose the revision flap from inside or outside of room. System is installed directly to the window frame, with use of properly selected profile. Roller shutter curtain can be made of high-quality aluminum sheet profiles, ensuring resistance to abrasion and weather conditions, or of plastic profiles. System structure enables integration with fly screen, which guarantees effective protection against insects. In case of buildings with very thin walls and with no development option, it's possible to use a variant with so-called rounded side profile. It's very aesthetic solution, that will certainly fit into any interior.
Comfort of use
Depending on the users' needs, the roller shutters can be controlled: manually, through an electric drive with a wall transmitter or a remote control, and also thanks to the use of intelligent control via a computer, tablet or smartphone.
Utility values
Roller shutters in the SKT OPOTERM system provide excellent thermal insulation, allowing to significantly reduce heating costs in winter, and in summer they reduce the heating of the rooms. Connection with the MOSKITO system additionally protects the interior of building against insects, while maintaining access to light and air.
Color palette
A large selection of colors in the standard palette of PA profiles allows meeting the needs of the most demanding customers. The offer also includes wood-like colors. Color coatings of extruded elements are made using the powder coating method, which ensures high quality and durability of the product and allows to be painted in any color from RAL palette.
AUTHORIZED ZONE
Please visit our customer area. Some products you can price yourself, or send a quote request for an already configured product.