Functionality
Roller shutters in front mounted systems SK are intended mainly for use in existing buildings. The advantage of these products is no direct integration with the window, and thus the need to interfere with current condition of the building, because they don't require special preparation for installation and aren't integrated with the window. Thanks to this, decision to install the roller shutters in front mounted system can be made at any time. Due to the shape of box, this solution looks great especially in a recess, where it's mounted directly to the window joinery. However, it's possible to mount the roller shutter directly on the building wall.
Construction
Boxes in the SK system are made of high-quality aluminum sheet, which, like in the case of PA profiles, is characterized by high resistance. Its characteristic feature is the semi-oval shape, thanks to which it fits perfectly into any recess. The roller shutter curtain is most often built on the PA profiles basis made of high-quality aluminum sheet, filled with polyurethane foam, with special two-layer PU / PA varnish coatings. This makes them more resistant to abrasion and weather conditions. The offer also includes profiles made of extruded aluminum, characterized by greater stiffness and stability, as well as plastic profiles.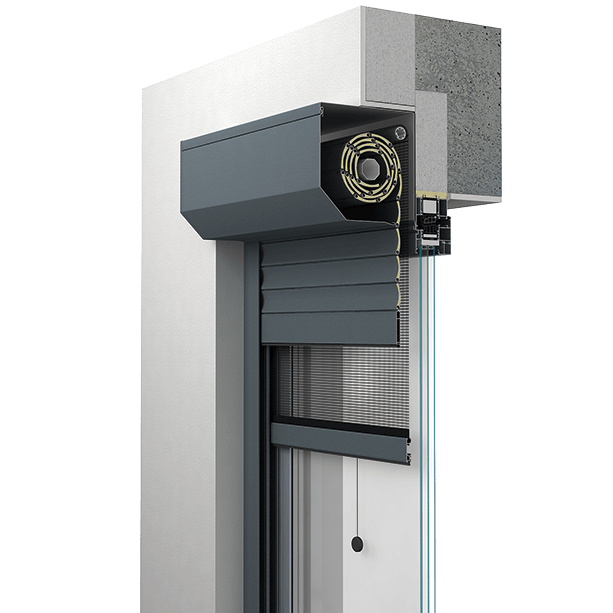 Comfort of use
Depending on the users' needs, the roller shutters can be controlled: manually, through an electric drive with a wall transmitter or a remote control, and also thanks to the use of intelligent control via a computer, tablet or smartphone.
Utility values
External roller shutters play a very important role in comfort of using the building. In unfavorable weather conditions, they constitute a barrier, that effectively protects windows against rain, snow or wind. In summer, however, they perfectly protect against excessive sunlight, while limiting the use of air conditioning devices. Additionally, a properly selected system of external roller shutters is an effective protection against burglary. The advantage of these products is possibility of using Moskito system, that works independently of roller shutter, which additionally protects the interior of building against insects, while maintaining access to light and air.
Color palette
A large selection of colors in the standard palette enables meeting needs of the most demanding customers. Color coatings of extruded elements are made using the following methods, depending on customer's request: powder coating and Decoral.
AUTHORIZED ZONE
Please visit our customer area. Some products you can price yourself, or send a quote request for an already configured product.