Functionality
Sliding frame fly screen system protects the interior of rooms against insects and has applies to large, glazed recesses of balconies, terraces and winter gardens. Insect screen casement slides between the upper and lower rails. In the lower part, there is a roller with a mechanism, that allows for smooth adjustment of the inclination angle for each casement. Additional reinforcement, installed through a snap connection, enables the construction of a larger sash frame. Thanks to the use of a low running rail solution, the mosquito net works perfectly with sliding doors in which so-called "low threshold".
Construction
Frame and rails profiles are made of an extruded aluminum section with a modern shape, covered with a coating characterized by increased resistance to abrasion and weather conditions. Shape of the main fly screen profile eliminates the need for additional handles. Frame and leaf of the insect screen are mounted using internal corners. Insect screen can be installed in a three-row system.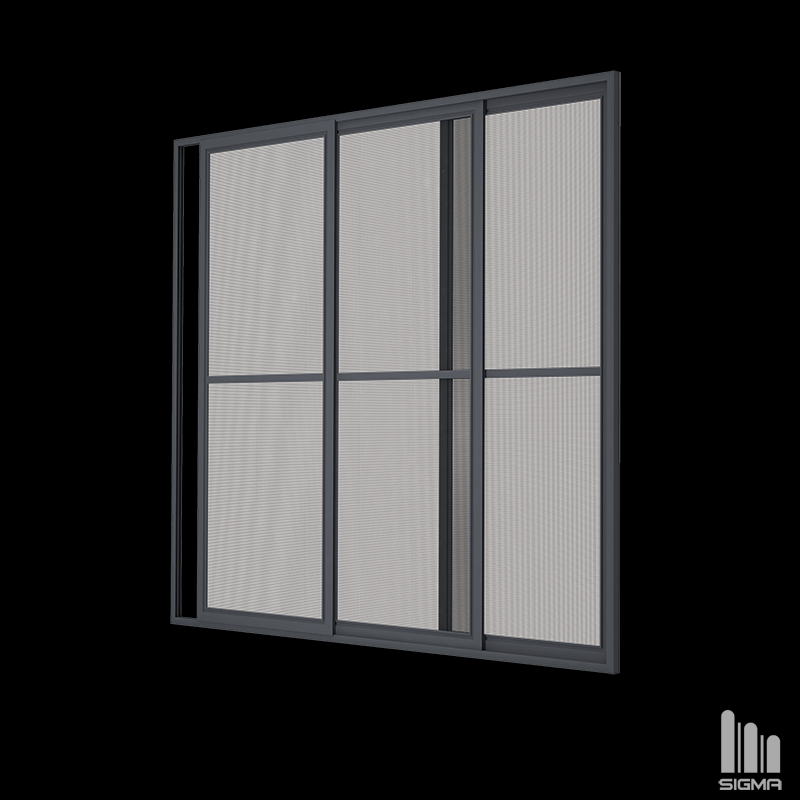 Comfort of use
Sliding fly screen is mounted directly to the door frame or jamb. A wide range of rails allows the fly screen's installation in various variants, on all types of windows and doors guaranteeing collision-free cooperation with external roller shutters.
Utility values
Considered construction of the insect screen and properly selected materials provide effective protection against insects, with access to light and air. Each mosquito net wing is sealed with brush seals. In this system there is a brake which slows-down the movement of the casement and an edge bumper, which prevents hitting the insect screen's frame on the rail.
Color palette
A large selection of colors in the standard palette enables meeting needs of the most demanding customers. Depending on the customer's request, color coatings are made with following methods: powder coating and Decoral.
AUTHORIZED ZONE
Please visit our customer area. Some products you can price yourself, or send a quote request for an already configured product.