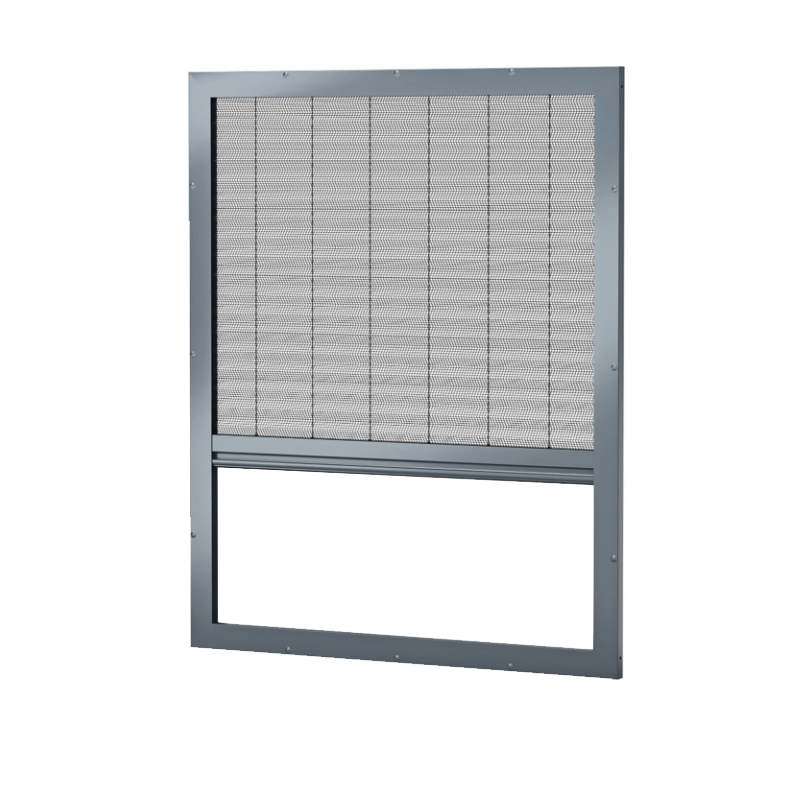 MPH moskito system is a supplement of insect screen offer and has been designed primarily for installation on window frames and roof windows. A characteristic feature of this product is the use of a special pleated net, which forms an accordion when closing and hides in the top profile. The main advantage of this solution is the possibility of tightening each of the cords guiding the mosquito net, which enable its accurate and even distribution. It is available in various sizes, so-called sets, which, depending on the needs, can be symmetrically cut, adjusting pleats size to the size of window. Closing and opening the insect screen is very simple and smooth, thanks to the system of springs installed in the bottom profile. Tension elements have been aesthetically hidden under a special masking profile, that can be unplugged and clipped in at any time. Sliding profile of the inscet screen, thanks to the designed cavity, allows to easy opening and closing. It is also possible to stop the insect screen at any time. Its structure is made of extruded aluminum, guaranteeing its durability and is largely based on the MPH HARMONY system components. The maximum size of the new insect screen is 2300 × 2000 mm
Construction
The structure of the insect screen is made of extruded aluminum, which makes it durable
and resistant to weather conditions, additionally it can be painted on any color from the RAL palette. A characteristic feature of this product is the use of a special pleated net, which forms an accordion when closing and hides in the top profile. Thus, the mosquito net takes up little space, allowing for optimal use of the surface. Importantly, doesn't affect the functionality of the door in any way, it also doesn't limit the visibility outside. The advantage of Aluprof's solution is the ability to separately adjust the tension of each strings leading the mosquito net, which guarantees its stable positioning.
Comfort of use
MPH system is characterized by an extremely smooth movement, which makes its use very easy and doen't require a lot of effort. In addition, the structure of the insect screen allows you to keep it in any position. Advantage of this solution is also a low threshold, which doesn't impede free passage in any way.
Color palette
A large selection of colors in the standard palette enables meeting needs of the most demanding customers. Depending on the customer's request, color coatings are made with following methods: powder coating and Decoral.
AUTHORIZED ZONE
Please visit our customer area. Some products you can price yourself, or send a quote request for an already configured product.