Functionality
SKB Styroterm top mounted roller shutter system is highly technologically advanced solution, that was created to improving energy balance of building. This product can be used both in newly created buildings as well as during existing buildings modernization of window frames replacement . As in case of Opoterm system, installation of roller shutter consists in mounting box directly on window frame with use of properly selected adaptive profile. Aluprof's offer includes several variants, that match 90% of profiles available on market. SKB Styroterm system has been designed to be completely insulated, thanks to which, box remains an imperceptible element of building facade.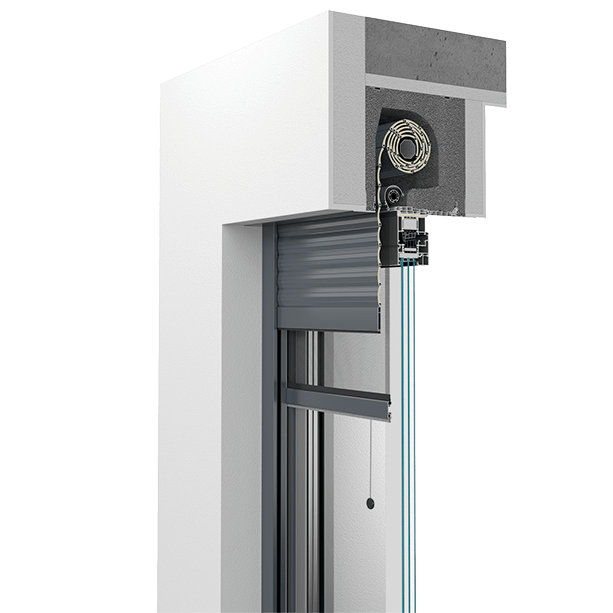 Construction
Main element of this product is box, which was made of material specially designed at request of Aluprof, characterized by very good thermal properties. It's available in two sizes: 260 x 260mm and 300 x 300mm. Advantage of this product is also ability to choose method of revision from inside or outside of room, which is extremely important in case of maintenance services. Well-thought-out structure of system enables use of facade blinds mechanism in box. As a result, external roller shutters and facade blinds can be combined aesthetically on same facade, ensuring a uniform appearance of building facade. Shutter armor can be made of foam-filled profiles and plastic profiles. STYROTERM system roller shutters can be equipped with insect screen built in box. Thanks to the "click" technology, assembly is very quick and easy.
Comfort of use
Depending on users' needs, roller shutters can be controlled: manually, through electric drive with wall transmitter or remote control, and also thanks to use of intelligent control via computer, tablet or smartphone.
Utility values
Roller shutters in SKB Styroterm system are extremely versatile solution. In winter, they significantly reduce heat loss through windows and doors, while in summer they perfectly protect rooms against overheating in summer. This allows for significant savings, even to 30% per year. What's more, thanks to integration with mosquito net, they constitute a barrier, that protects house interior against presence of annoying insects.
Color palette
A large selection of colors in standard palette of PA profiles, enables meeting the needs of the most demanding customers. Offer also includes wood-like colors. Color coatings of extruded elements are made by powder coating method, which ensures high quality and durability of product and allows to be painted in any color from RAL palette.
AUTHORIZED ZONE
Please visit our customer area. Some products you can price yourself, or send a quote request for an already configured product.