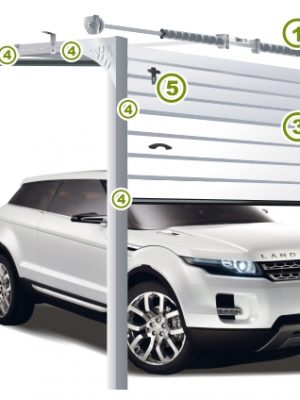 1. Gate is equipped with torsion springs, so that opening and closing don't require much effort. Thanks to them, user has impression, that gate leaf made of solid segments is light.
2. To increase safety of using, as standard our gates are equipped with a protection against effects of breaking springs.
3. All types of panels used in our gates are made to prevent pinching your fingers, while gate opening or closing. Finger-protection system increases safety of gate's use.
4. To prevent your fingers from getting caught in the guideway, our gates are equipped with roller finger guards.
5. Manual sectional garage doors of non-standard dimensions are equipped with a lock, with a patent cylinder as standard. The set includes three keys.
6. Standard security feature in manually opened sectional doors of typical dimensions is a manual bolt, which effectively prevents closed door from being raised from the outside.
7. Standard equipment of gates with electric drive is an overload switch. It prevents possible crushing accidents. If an obstacle is encountered while closing (e.g. a ladder or a scooter), gate will automatically stop and then rise, without causing any damage.
8. Additionally, automatic gate can be equipped with a set of photocells. When an obstacle is at the level of the photocells line, gate will lift automatically.
Authorized zone
Please visit our customer area. Some products you can price yourself, or send a quote request for an already configured product.